Trusted since 1985 for home and business repair or any type of property improvement, We´ll provide you with best pre-screened contractors giving you
PEACE OF MIND…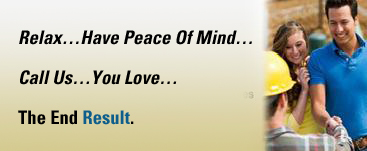 It all started in 1985…when three women bought "fixer-upper" homes. Each lady had to hire carpenters, plumbers, painters, roofers, and other contractors to refurbish their properties. Half the contractors they hired were great – the others were horrendous. It is very disturbing to hire incompetent people – not to mention EXPENSIVE. They soon realized that everyone goes through the same uncertainty and "trial and error" when it comes to hiring contractors. So together, they decided there was a need for a referral service that only used competent, reliable and fairly-priced contractors.
Since then, The End Result has been taking the pressure and anxiety out of property repair and home improvement. Whether your job is a small plumbing fix, a room addition or remodeling project, The End Result prides itself in finding you the most honest and reliable contractors in Orange County, CA and surrounding areas for all of your needs. Our no-cost, no-obligation contractor referral service for both residential and commercial properties begins with a simple click to find a reputable Orange County contractor (aka: The End Result) nearest to you.
At The End Result our philosophy is very simple… to dedicate ourselves to providing you with high quality contractor referrals in Orange County, CA. We only work with thoroughly pre-screened, licensed, bonded, insured, honest, competent and fairly-priced contractors who stay in our system based strictly on merit. As in our 'Pre-Screened Contractor Referral Promise', we work very hard to create a long lasting, trusting relationship between our clients, contractors and The End Result. Our contractor referral service's reputation is built from the promptness, knowledge, professionalism and personal courtesy that can only be found at The End Result – Orange County.

Experience How Easy It Is To Get FREE Contractor Referrals In Orange County and Surrounding Areas!

To find reputable contractors for all your needs:

Fill In The Form To The Right
or
Click On Get Referrals
or
Call One Of Our Helpful Representatives: (714) 628-1225